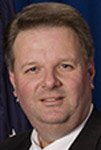 According to Grants.gov, a federal grant is an award of financial assistance from a federal agency to a recipient to carry out a public purpose of support or stimulation authorized by a law of the United States. Currently, 26 federal agencies offer over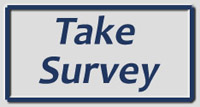 1,000 grant programs annually in 21 different fields (e.g., disaster prevention and relief, education, community development, health, arts) serving a wide range of people and communities. It is estimated that almost 100 of these grant programs are considered preparedness-related and support the ability to build and improve the capabilities necessary to prevent, protect against, mitigate the effects of, respond to, and recover from threats that pose the greatest risk to national security.
Although the federal grants-in-aid system has significantly evolved since its inception, the past decade has resulted in a significant increase in grant-related preparedness assistance from several federal agencies.
During that same time frame, state and local governments have come to rely more heavily on federal financial assistance than at any previous time in the past century. However, today's economic conditions have placed significant financial pressures on local, state, and federal budgets that have resulted in many budget reductions. Declining budgets have begun to adversely affect several of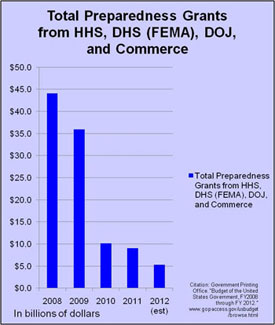 the largest preparedness grant programs (see chart) and may reduce the government's capacity to meet prior demands for service and support of preparedness capabilities throughout the country. For example, funding reductions have affected such programs as the Department of Homeland Security's (DHS) Urban Area Security Initiative (UASI) and the Department of Education's School Emergency Response and Crisis Management Plan Discretionary Grant Program.
DomPrep wants to know your opinion on how the future of federal grant funding will impact program priorities, multi-jurisdictional and multi-disciplinary collaboration efforts, and the effective administration of grants.
______________________________ Marko Bourne is the Leader of the Federal Emergency Management Agency (FEMA) market team and part of the leadership of BAH's Emergency Management and Response practice. He oversees BAH's support to emergency management clients and provides strategic planning for the Homeland Security and emergency management market. He has more than 27 years of experience in emergency services, emergency management, policy, governmental and legislative affairs, and public affairs. Previously, he was the Director of Policy and Program Analysis for FEMA (2006-2009) and Director of Business Development for Homeland Security at Earth Tech Inc./Tyco International (2004-2006). He also served as Acting Director of the Department of Homeland Security's National Incident Management System Integration Center and Deputy Director of FEMA's Preparedness Division (2003-2004).